Meeting Karpovsky
"In the dance of life Sylvia has two left feet, but Karpovsky has arrived to tutor her in hope and grace."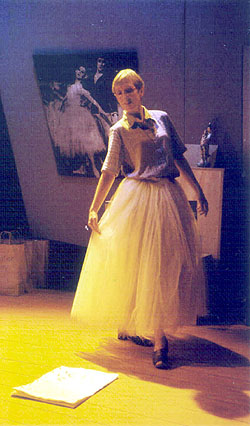 "Years ago, Sylvia travelled the world and its greatest ballet theatres; now she lives alone in a house filled with photographs of her favourite dancer and boxes of her daughter's unwanted possessions. Sylvia knows all the dances and has all the moves in her head, but is afraid to step out. Then the great dancer Alexander Karpovsky - she has seen him dance 127 times - turns up mysteriously in her lonely room and breaks through her brittle cocoon."
Meeting Karpovsky won the Listener Best New Play Award in Christchurch 2002 and Actress of the Year 2003 in the Chapman Tripp Theatre Awards in Wellington. It has been praised for its uniqueness and innovation. Created by celebrated senior performing artists from New Zealand and Australia, it pushes new boundaries in combining the two forms of ballet and theatre. Besides their acclaimed performances, the willingness of the artists to explain the genesis and development of the work in forum situations and individually has contributed to audiences' appreciation of the artistic product and their understanding of the creative process.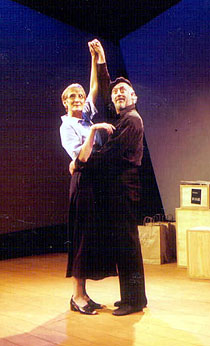 The theme of Meeting Karpovsky is universal: that through learning to accept oneself in body, mind and spirit, one can see beauty and grace in everyday things. The expression of the theme, whilst not expressly set in New Zealand, nevertheless draws on the idiom and experience of New Zealanders to connect with an audience on an intellectual, emotional and spiritual level.
The performance of an original work by artists with the reputation of Sir Jon Trimmer and Helen Moulder goes deeper than the mere delivery of a play. Such a venture places value on the response of a diversity of audiences, helps strengthen confidence in a national body of work, forges new possibilities for cultural identity and opens opportunities for changing perceptions of oneself.
Click here to join the Willow Productions mailing list