Back to home page | Back to Reviews
Reviews
The Press, 11th November 2002
A GRAND PAS DE DEUX OF DOYENS
MEETING KARPOVSKY, Court Two at 8.15pm, November 9. Director Sue Rider; design David Thornley; lighting Joe Hayes. Duration 1 hour 30 minutes. Reviewed by Greer Robertson.
What do plies, pas de chats, and precise diction have in common and how do they share the same intimate performance space? Helen Moulder and Sir Jon Trimmer, consummate veterans of stage and theatre, come together to present the world premiere of an exciting new collaborative work.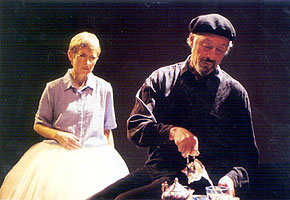 What a combination. A grand pas de deux of doyens, emulating years of experience.
The basic storyline is one of a woman and a dancer. But it is also a delicate journey of shifting contrasts blending movement and stillness, silence and chatter, awkwardness and grace, as it flows towards an ideal balance that comes with wisdom and courage to face the truth.
This intimate chamber theatre of part play, part ballet strikes a unique chord as it lives the brutality of fantasy and reality. Words are interwoven with movement and masterful miming.
Trimmer, as the older Russian dancer, charismatically recaptures a past era; one, significantly paralleled with his personal theatrical life and triumphs. Moulder is the passionate articulate believer, and the split-second timing between the two characters, Sylvia and Karpovsky, is pure delight.
Jovial limericks and witty subtlety support the very sound, believable dialogue, written predominantly by Helen Moulder.
It is not necessary to be an avid balletomane to appreciate the content or the perennial performers of this innovative play. A must see.