Back to home page | Back to Reviews
Reviews
Sunday Star Times, 17th November 2002
PLEASED TO MEET YOU
MEETING KARPOVSKY
By Helen Moulder, Sue Rider and Sir Jon Trimmer
Court Theatre, Christchurch, to December 7. Reviewer: Jim Tully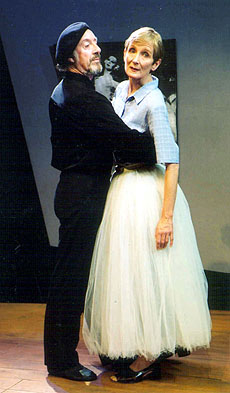 Meeting Karpovsky, which had its world premiere at the Court Theatre, is a showcase for the remarkable talents of Helen Moulder and Sir Jon Trimmer.
Moulder is superb as Sylvia, a woman who deals with her aloneness by invoking an imaginary world at the centre of which is the great ballet dancer Alexander Karpovsky, whom she idolises.
Sylvia is without the two people she loves - her husband, who has gone to another woman, and her daughter, who lives overseas, most recently in China. Moulder brilliantly conveys a woman on an emotional knife-edge, finding solace in her "relationship" with Karpovsky as she works through her deep sense of loss.
I will remember this year at the Court for Moulder's consummate skill in a series of diverse performances.
Sir Jon utters just one word in the play - and so liberates Sylvia from her fantasy world - but has a commanding presence and utilises his renowned skills as a dancer. There are some delightful moments as he leads a heavy-footed Sylvia through steps from Giselle and others of considerable poignancy as he helps Sylvia confront the fate of her daughter.
The play itself is well-crafted with an ebb and flow of emotional tension, some lovely touches of humour and a measure of suspense though the final revelation comes as no great surprise... It is certainly a play with universal themes that could be easily adapted to other settings.
Meeting Karpovsky is really an opportunity to meet two great performers and to enjoy their memorable combination.