Back to home page | Back to Reviews
Reviews
National Business Review, 13th December 2002
John Smythe
A JOURNEY THROUGH DANCE AND DRAMA
Meeting Karpovsky, created by Helen Moulder, Sue Rider and Sir Jon Trimmer from an idea by Helen Moulder. Directed by Sue Rider Court One, Christchurch (then Circa Studio, March 2003)
For those who have seen her contributions to Hens' Teeth revues, Meeting Karpovsky begins as vintage Helen Moulder. But it soon reveals itself as a very different and surprisingly substantial work in its own right.
Sylvia, a delightfully genteel and dotty lady of indeterminate age, given to making up dubious limericks, is quietly going mad in one room of a large rambling house where the view of the lawn in obscured by rampant wisteria.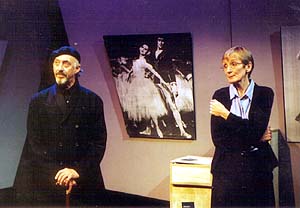 Escaping from her real office-worker world, she spends her evenings conversing with blown-up photos of famous characters from classical ballets. The world- famous ballet dancer Alexander Karpovsky, whom she has seen perform 127 times, is featured in the four pictures we see: as the deceptive and guilt-wracked Albrecht with the now ghostly Giselle; as the magician Herr Drosselmeyer (from The Nutcracker); as the would-be controlling Widow Simone (La Fille Mal Gardee); as Petrouchka, the harlequin puppet with a human heart, unable to escape the control of his creator.
Sylvia's fantasy world is confirmed with Karpovsky (Sir Jon Trimmer, on loan from the Royal NZ Ballet) materialises. Although shocked and fearful, she does allow him to teach her, among other things, the pas de deux from Giselle.
The play uses fantasy to take us into a profoundly moving reality of great emotional depth, the Petrouchkan theme of raging against a controlling God we no longer trust is central, and overall it informs, educates, entertains and finally inspires.
In this limbo between fantasy and reality, questions of dependence and independence, sanity and insanity, and an individual's power over life and death, are thoroughly explored.
An epilogue in which Sylvia recounts how she saved her niece from drowning is uplifting in every sense, not least because it brings together all the elements in a powerful resolution.
As Sylvia, Helen Moulder extends herself in every dimension with great emotional integrity and sure performance sensibility. In challenging herself, she challenges us to share her journey and delivers the kind of rewards that only live theatre can offer.
In the silent (but for one word) role of the fictional Karpovsky, Jon Trimmer is amiable in repose, stern and dismissive when he needs to be and a delight to observe when he comes alive as a dancer.