Back to home page | Back to Reviews
Reviews
The Listener, 23rd November 2002
HAPPY EVER AFTER
MEETING KARPOVSKY by Sue Rider, Helen Moulder and Sir Jon Trimmer; directed by Sue Rider, Court Two. Reviewed by Faith Oxenbridge.
AN EXTRAORDINARY NEW WORK FULL of humour, delight, drama and surprise, Meeting Karpovsky is an enchanting play, and, above all, is the pure magic that Helen Moulder and Jon Trimmer conjure on stage together.
Years ago, Sylvia travelled the world and its greatest ballet theatres; now she lives alone in a house filled with photographs of her favourite dancers and boxes of her daughter's unwanted possessions and talks to herself in rhyme. Sylvia knows all the dances and has all the moves in her head, but is afraid to step out. Then the great dancer Alexander Karpovsky - she has seen him dance 127 times - turns up mysteriously in her lonely room and breaks through her brittle cocoon.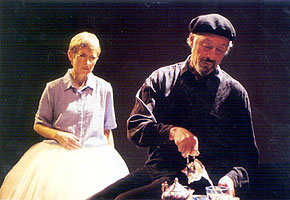 In the dance of life Sylvia has two left feet, but Karpovsky has arrived to tutor her in hope and grace. It's a slow and awkward process. She has a frozen shoulder, a shaky ankle and a broken spirit. Karpovsky is, however, undaunted and returns again and again despite Sylvia's insistence that she was, "all right until you came" and "forced me to dance".
Moulder is remarkable as the helpless, hopeless Sylvia. She has a luminous quality and imbues the unworldly Sylvia with a rare beauty and charm. Trimmer plays Alexander Karpovsky with delicate grace. He glides silently, elegantly around the stage, tender as a love poem and replete with compassion and kindness. Together they are magnificent: she a jittery, wounded gazelle gambolling alongside his sure dance of love and understanding.
The wordless interludes are almost unbearably intimate and poignant: when Karpovsky slowly and lovingly binds Sylvia's weak ankle, makes her tea and then drinks in time with her, the audience almost forgets to breathe.
The music is beautiful, too, and the snatches of movement from Trimmer - even his eyebrows move poetically - are a delight. Meeting Karpovsky is a simple and profound story of grief and hope and the pain and joy of being alive and human. I can't remember when I last saw a production this heart-warming. I'm still smiling.