Wellington House Shows Nov 17 - Dec 16
Media Release

THEATRE IN YOUR LIVING ROOM
Would you like a play performed in your own home?

Wellington actor Helen Moulder is planning a season with her solo play Playing Miss Havisham in the Wellington area, this time in people's living rooms.
"I've just returned from performing the play in the UK, France and the USA and I played several times in private homes. I found people really enjoyed it," she said, "the intimacy especially, but also the social aspect." Helen doesn't need much room for her acting area – a minimum of 3 metres by 2 metres - and can play to groups ranging from 15 to 35 people, depending on the available space.
"I have the audience quite close with sofas in the front, dining chairs behind," she says "and sometimes people bring their own folding chairs." The evening is often combined with food, either beforehand, afterwards or both. "I always suggest that the audience members bring a plate, so that the host hasn't got too much to do!"
Written by Helen and director – Sue Rider, Playing Miss Havisham has been in Helen's repertoire for 5 years. She has toured widely around NZ as well as in Queensland and then on this recent trip to Europe and the USA playing to Dickens Societies. The play was first shown at Circa Theatre in 2006.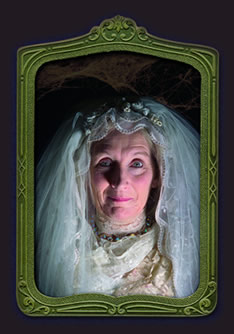 Playing Miss Havisham is about a rural kiwi woman who wants to audition for the role of Miss Havisham in a film being made in New Zealand of Charles Dickens' Great Expectations, as she sees it as a way out of her humdrum existence. Helen plays five or six characters in the play. "There's a lot of beautiful piano music in the piece recorded by Richard Mapp and plenty of humour, mystery and surprise," says Helen. "Regular theatre goers are intrigued and it's also a good introduction for people who haven't seen much theatre."

Stage Set Up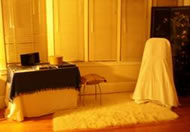 Season Dates: November 17 – December 16
Length: One hour 30 minutes
Cost: $20 per head with a minimum of 15
Contact: Helen Moulder 0274 987 580 OR email: hmoulder@xtra.co.nz
REVIEWS
"Always a delight" - National Radio

"Helen Moulder connects with her audience… with great charm and sincerity" "pianist Richard Mapp (plays) …. with great skill and sensitivity." – John Smythe Theatreview

"comedy with a delightfully playful self-consciousness" - Richard Thomson, SCOOP

"visually dominated by Miss Havisham's wedding dress, a gorgeous, eye-catching symbol of expectations"- Dominion Post

"This is a wonderful piece of theatre by a consummate professional and should not be missed." – John Jefferies, Nelson Mail
Click here to join the willow productions mailing list