Willow Productions presents
In celebration of Sir Jon Trimmer's 80th birthday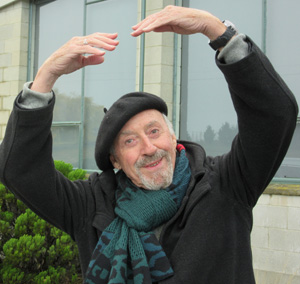 Meeting Karpovsky
With Helen Moulder & Sir Jon Trimmer
Directed by Sue Rider
"In the dance of life Sylvia has two left feet, but Karpovsky has arrived to tutor her in hope and grace."
For Sir Jon Trimmer's special 80th birthday celebration, Helen Moulder and Sir Jon reprise their award-winning performance of Meeting Karpovsky, an extraordinary theatre work full of humour, delight, drama and surprise.
Sylvia knows all the dances and has all the moves in her head, but is afraid to step out. Then one day the great dancer Alexander Karpovsky – she has seen him dance 127 times – turns up mysteriously in her lonely room and breaks through her brittle cocoon...
Show duration 80 minutes
"strikes a unique chord – a must see" – The Press
"delivers the kind of rewards that only live theatre can offer" – National Business Review
"This beautiful piece of theatre brings together two extraordinary performers (Helen Moulder and Sir Jon Trimmer) performing a unique pas de deux that interweaves ballet and theatre seamlessly" - Theatreview
Circa Two
6  – 16 November
Preview 5 November
Tues – Sat 7pm (Note: Start time is 7pm not 7.30pm)
Sun 4.30pm
Matinee Sat 16 Nov 2pm
Adult $46 // Concession $38 // Friend of Circa $33 // Under 25s $25 // Group 6+ $42
STRICTLY LIMITED SEASON
Bookings, 1 Taranaki St, Wellington
04 801 7992
circa.co.nz
Refreshments can be purchased from Circa Theatre's licensed bar and cafe.
WE NEED YOUR SUPPORT
We are running a crowd funding campaign with Boosted from Sept 19th to Oct 17th to help our season at Circa.  If you'd like to support us please click on this link:
https://www.boosted.org.nz/projects/celebrating-sir-jon
THANK YOU!
Click here to join the Willow Productions mailing list