Willow Productions are proud to present
A Vote for Cynthia
Face the Future with Fortitude!

North Island Tour September / October 2011
e-mail: helen.moulder@gmail.com for dates and venues
PRESS PHOTOS
A Vote for Cynthia
The greatest living soprano of all time" – Mongolian Morning Tribune
If You Want a more Harmonious New Zealand for your Children!

If you Love the Arts

And don't think the Economy Matters that Much!

THEN MAKE FORTITUDE YOUR PARTY VOTE

CYNTHIA FORTITUDE FOR PRIME MINISTER!

The great travelling opera diva, Miss Cynthia Fortitude, has come back to New Zealand and after an illuminating experience on Paekakariki Beach, has decided to form a political party and stand for parliament. Come and hear for yourself Cynthia's Five Point Plan for the Glorious Transformation of New Zealand Culture and Society. With Operatic Highlights by Verdi, Handel, Purcell, Wagner, Haydn, Gay, Sullivan and Miss Fortitude herself.
Written by Helen Moulder and Alison Holcroft
Directed by Jeff Kingsford-Brown
Face the future with Fortitude!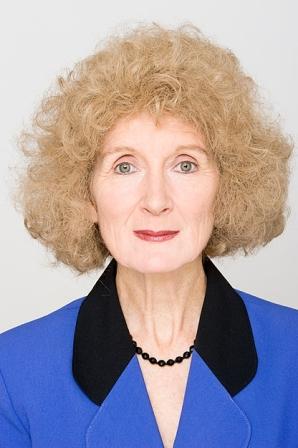 "She has created an unbeatable gem of a comic character."
Laurie Atkinson, Dominion Post, Oct 2007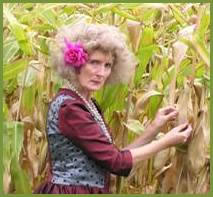 Looking at Options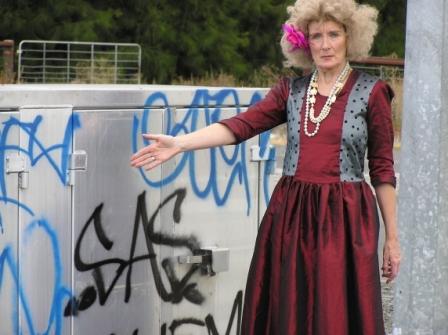 Leading the Way
A Vote for Cynthia is available for conferences, fundraisers,
people's homes, galleries, cafes and halls.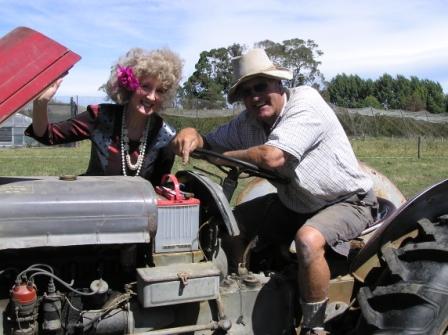 REVIEWS
Waikato Times
Gail Pittaway
For those unlucky enough NOT to have encountered Cynthia Fortitude, she's an aging opera singer who has devoted her life to taking opera to the less fortunate nations of the world. You might call her a missionary of song.

As her touring ends she wants to write an opera about a great inspiring Kiwi politician, but can find none worthy of the kind of musical treatment her voice and talent can produce. That is, until she realizes that if she becomes prime minister, she can write the opera about herself. It's a plan worthy of any spin doctor…….

Helen Moulder is delicious; apparently bumbling through the show, she nonetheless manages all the music, power-point, camera and lighting cues alone. She's also able to play the Funeral March and Gilbert & Sullivan on the ukulele. In fact sing like mad is not only what she does – it's what she makes us want to do as well. Funny, mad, but steely; she's an absolute gem who gets my vote.

Capital Times
Garth Wilshere
Opera diva Miss Cynthia Fortitude has had an epiphany, formed "The Fortitude Party" and we are being extolled to vote for Cynthia as Prime Minister. "Face the Future with Fortitude" is amongst the perfect slogans. Helen Moulder returns triumphantly as her alter-ego to launch her political party. Of course it wouldn't be Cynthia without some opera excerpts, and a ukulele in accompaniment, in the guise of new clever anthems and campaign songs, all with hilarious lyrics. Helen Moulder's comic genius is to the fore as of course is her spirited singing, often with plenty of help from the audience and a rehearsal for question time was great fun. Moulder and Alison Holcroft's script captures the foibles and frequent ridiculousness of politics and there are nuances and touches in Moulder's performance that bring the house down. Topically up to the minute on happenings, political and otherwise, this is a great night's entertainment.

LENGTH
One hour 20 minutes, no interval

BIOGRAPHIES

Helen Moulder – Performer and co-writer

Helen has been working as a professional actor and singer for 30 years in theatre, television, radio and film. In the last ten years she has also been writing her own work. She has performed at Circa, Downstage, Court, Fortune and Centrepoint theatres and in various tours throughout NZ and Australia. Her recent theatre roles have included Cynthia in The Legend Returns, (Circa and on tour) Madame Giry in Ken Hill's Phantom of the Opera, (Tokyo) Mrs Venables in Suddenly Last Summer,(Court) Jean in Taking Off (South Island tour and Court), Jean in Mum's Choir, (Centrepoint) Sister Aloysius in DOUBT (Circa) and Claudia in Playing Miss Havisham. For Vivienne Bearing in Wit (2000) and Sylvia in Meeting Karpovsky (2003) she was awarded Actress of the Year in the Wellington Theatre Awards. Helen has recently returned from touring Playing Miss Havisham around Queensland.
Click here for Helen Moulder full CV

Jeff Kingsford-Brown: Director/Dramaturg
Jeff has been involved in professional theatre both in NZ and overseas, as an actor, singer and director for over twenty years. His recent acting and singing work includes the musicals Nuncrackers – Auckland and Wellington tour, Phantom of the Opera - tour of Japan and Aladdin at Circa, plays - Telling Stories at Circa, Mum's Choir at Centrepoint and Downstage. He has guested on the TV3 hit Outrageous Fortune, as the awfully lecherous supermarket manager Noel Greenwood. In 2004 he directed the much-acclaimed production of Henrik Ibsen's A Doll's House for Centrepoint and co-directed (with Alison Quigan) Roger Hall's Spreading Out. In 2007, he directed the successful tenth anniversary production of David Geary'sThe Farm at Centrepoint, performed in Monarchy (Circa) and in Cynthia Fortitude's Farewell – her first. He has worked extensively on workshopping new scripts.
Alison Holcroft: Co-writer and political advisor
Alison has worked for thirty years as a lecturer in classics and academic administrator at the University of Canterbury. She has a long standing interest in the absurdities of political life, as a conservation lobbyist in the 1970's and 1980's and the founder of the Association of Nice God Fearing Literate Individuals Campaigning Against Noisy Streets. She found it fruitful to apply methods used in studying ancient history to the study of contemporary New Zealand politics, discovering the unsurprising truth that the human realities of political behaviour have a certain constancy. Her previous writing has been in academic fields where she has research interests in both the public relations campaigns run by hermit saints in Late Antiquity and the highly politicised cultural debates of the early Renaissance. She is currently studying sociology and negotiating the political arrangements between three resident cats.
For more information
Email: info@willowproductions.co.nz
Or contact: Helen Moulder
PO Box 9116
Marion Square
Wellington 6141
Mobile: 0274 987 580
Click here to join the Willow Productions mailing list